1
« on: February 08, 2019, 07:02:13 pm »
Staking at XBTS DECENTRALIZED EXCHANGE https://xbts.io
New opportunities for traders and holders!
50% of XBTS trading profit is distributed among Smartholdem STH holders
Payments on the deposit are made every two weeks in coins/tokens traded at the exchange.
The list of coins/tokens for payments. Payment Period Reports >View Latest Reports<
https://xbts.io/smartholder.html
Due to its unique value propositions, Smartholdem stands out against other revenue-sharing exchange assets.
SmartHoldem Coin (STH) is the core XBTS DEX asset.
It is used in voting
https://vote.xbts.io/
and Smartholder depositing at XBTS.
Outside of XBTS, it is the core coin of the Smartholdem decentralized gaming platform
https://smartholdem.io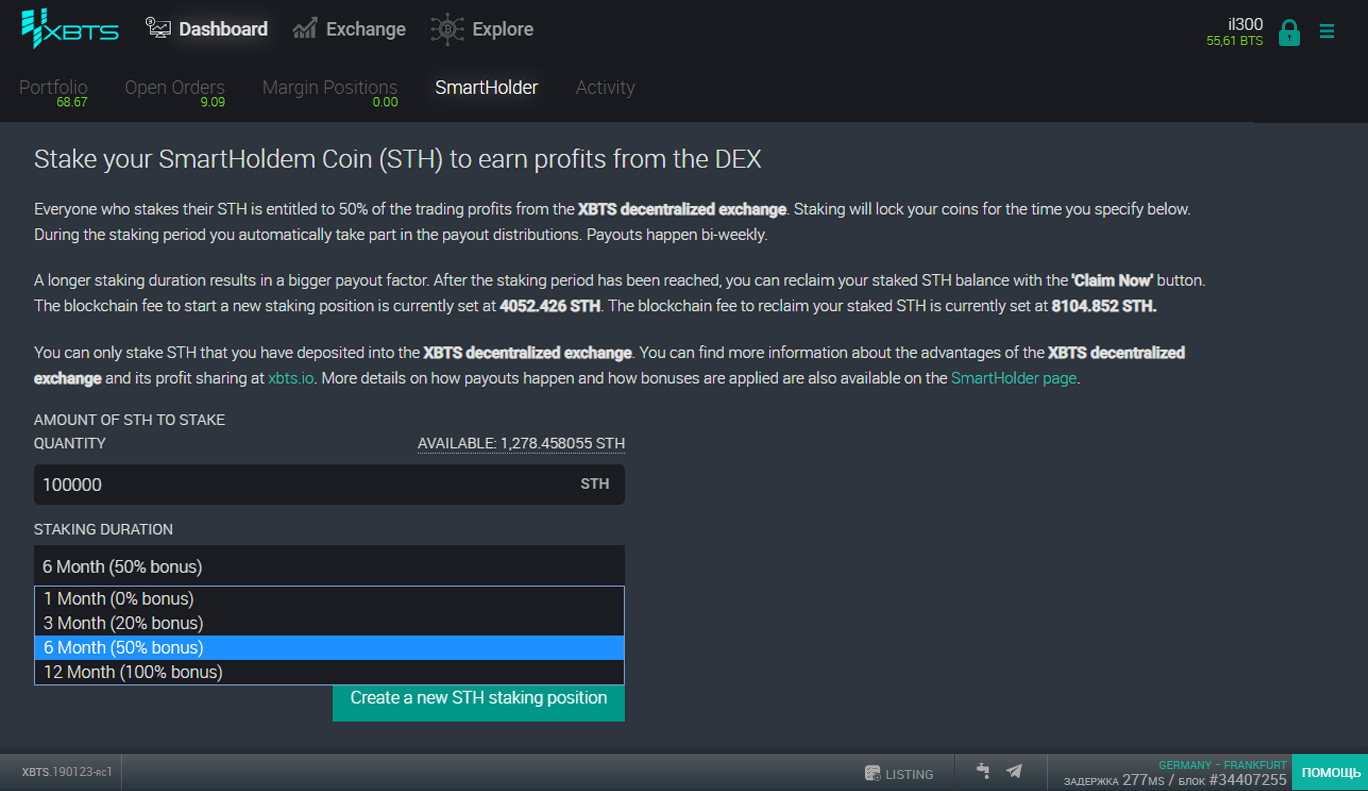 Staking at XBTS is freezing coins (voluntary blocking of STH balance) for a selected period of time: 1 month, 3 months, 6 months or 12 months.
Use your SmartHoldem Coin (STH) to profit from XBTS DEX.
Everyone who deposits their STH is entitled to get up to 50% of XBTS DECENTRALIZED EXCHANGE trading profit. "Trading profit" refers to trade transactions: withdrawal, submitting orders, fees charged for purchase and sale of an asset from an exchange.
By staking you confirm the freezing of coins in the BitShares blockchain for a selected period. A Stake is a vesting transaction that cannot be unfrozen until the end of the period.
After the stake period ends, you can return your STH balance by pressing 'Claim Now' button.
During the stake period, you automatically take part in distribution of trading profit. Payments are made every two weeks. They are credited to your exchange account and become available for use immediately.
The amount of payments depends on the amount of fees, the number of trade transactions at XBTS and can reach up to 50% of the total volume for a certain period.
Also, the total number of frozen coins affects the size of payments, since the accrual rate is calculated based on two parameters: the total number of coins and the freezing period.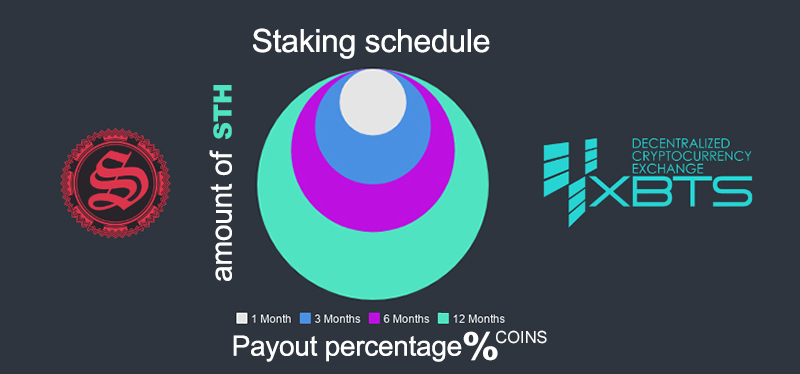 After the deposit period ends, interest is not accrued. The participant should unfreeze their assets by performing a withdrawal transaction.
The list of coins/tokens for payments
How the bonus calculation system works:
When choosing the stake period, XBTS adds a bonus of up to 100% to each stake.
The percentage of profit from XBTS trading fees is distributed depending on the weight of your Stake. For example, when choosing depositing for 6 months, the weight of your Stake increases by 50%, for 12 months — by 100%.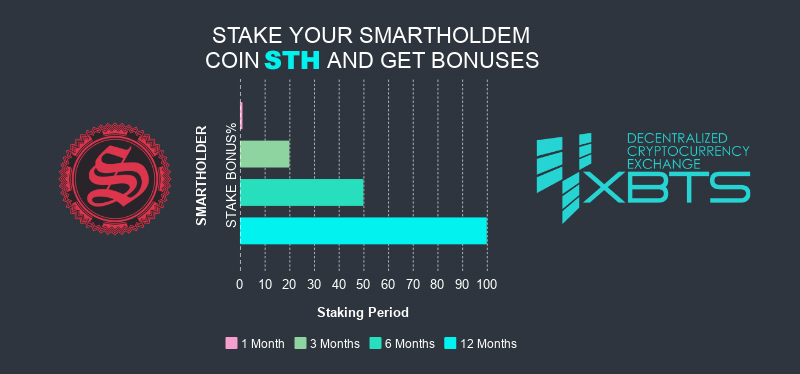 The bonus increase is used only for calculating the percentage of trading profit when distributing Smartholder payments!!!
The longer the period (duration) of the Stake, the greater the payout rate.
More information about how payments are made and how bonuses are calculated is available on the Smartholder web-site.

This information is for informational purposes only and should not be understood as investment advice.